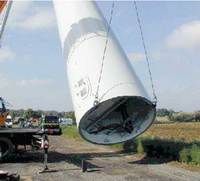 A safe and cost reducing installation of a windmill is of increasing importance. Reduce your assembly time and mount your tower segments with our patented ACTEK WKA-System.
Whole tower families or different types of towers could be mounted with the WKA-System.  It is working on a WKA and WKA-B basis and allows the use of different screw sizes and  different distances of the flange holes.
Each system has a minimum of only four WKA hoist rings for the top flange and two WKA-B  hoist rings for the bottom flange. Therefore the system uses the already existing flange holes.
We can reach highest lifting capacities in all lifting angles due to the use of ACTEK hoist rings  with a 5:1 safety factor. The hoist rings come with lifting capacities from 7.000 (15400) to  31.500 kg (69.300 lbs.) for each hoist ring.  All parts of the WKA system come nickel plated (except screws and nuts). This surface layer  protects from corrosion due to humidity and salty air.
The HTS FS-System is a fail-safe colour code system for screws and nuts to prevent the use of  bigger nut sizes on smaller screws. Bright colours helps to find them on the ground and helps  not to use regular silver screws by mistake.
Challenge us – We are pleased to help you to find the optimum for mounting solutions from hoist rings over snatch blocks to storage boxes.