The HTS CR-Series has been in production since 2003.  Our HTS engineers specifically designed the Clean Room Series for applications in clean rooms, the food industry, as well as the pharma and chemical industry. All standard HTS ECO-Skates (i- Series, DUO and ROTO) can be supplied as CR-Series with nickel plated surfaces and wear resistant nylon wheels.
Features

Steering and alignment bar
The i-Series load moving systems are standard equipped with steering and alignment bars.
Special length are availabe on request.
Nickle plated surface and wear resistant Nylon wheels
All CR-Series skates come with a nickle plated surface and wear resistant, white nylon wheels, which can be used in clean room areas.
Combinable
All ECO-Skate i-Series load moving systems can be combined with all other suitable skate systems. The sum from each skate equals the total carrying capacity.
| Type | iN40L-CR | iN40S-CR | iN80L-CR | iN80S-CR |
| --- | --- | --- | --- | --- |
| Part number | 12.040.01.10 | 12.040.01.20 | 12.080.01.10 | 12.080.01.20 |
| Capacity (lbs.) | 8,800 | 2 x 4,400 | 17,600 | 2 x 8,800 |
| Capacity as a Set (lbs. ) | 17,600 | 17,600 | 35,250 | 35,250 |
| Wheel dimension (inch) | 3.3" X 3.4" Nylon | 3.3" X 3.4" Nylon | 3.3" X 3.4" Nylon | 3.3" X 3.4" Nylon |
| Number of wheels | 4 | 2 x 2 | 8 | 2 x 4 |
| Load area (inch) | 5.9" | 5.9" X 3" | 5.9" | 4.7" X 8.7" |
| Dimensions L x W x H (inch) | 9.3" X 9.4" X 4.3" | 9.0" X 5.2" X 4.3" | 13.5" X 18.9" X 4.3" | 291 x 220 x 110 |
| Handle length (inch) | 39.4" | - | 39.4" | - |
| Adjustability (inch) | - | 10.4" to 39.3" | - | 16.5" to 43.3" |
| Weight (lbs.) | 26.5 | 24 | 46 | 53 |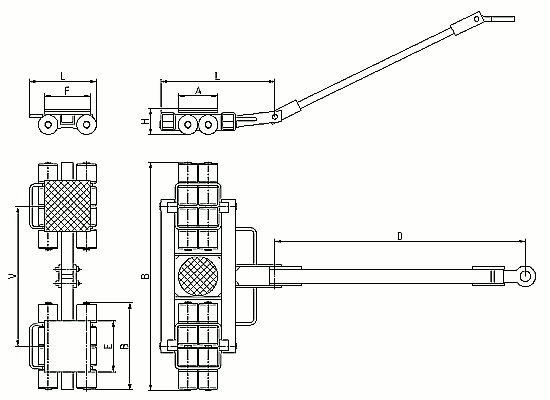 | Type | iN120L-CR | iN120S-CR | iN160L-CR | iN160S-CR |
| --- | --- | --- | --- | --- |
| Part number | 12.120.01.10 | 12.120.01.20 | 12.160.01.10 | 12.160.01.20 |
| Capacity (lbs.) | 26,450 | 2 x 13,200 | 35,250 | 2 x 17,600 |
| Capacity as a set (lbs. ) | 52,900 | 52,900 | 70,500 | 70,500 |
| Wheel dimension (inch) | 3.3" X 3.4" Nylon | 3.3" X 3.4" Nylon | 3.3" X 3.4" Nylon | 3.3" X 3.4" Nylon |
| Number of wheels | 12 | 2 x 6 | 16 | 2 x 8 |
| Load area (inch) | 6.7" | 7.1" X 7.5" | 6.7" | 7.9" X 8.7" |
| Dimension L x W x H (inch) | 20.8" X 30.4" X 4.3" | 11.6" X 11.6" X 4.3" | 20.8" X 38.6" X 4.3" | 11.5" X 15" X 4.3" |
| Handle length (inch) | 47.2" | - | 47.2" | - |
| Adjustability (inch) | - | 18.1" to 43.3" | - | 22" to 43.3" |
| Weight (lbs.) | 110 | 60 | 130 | 77 |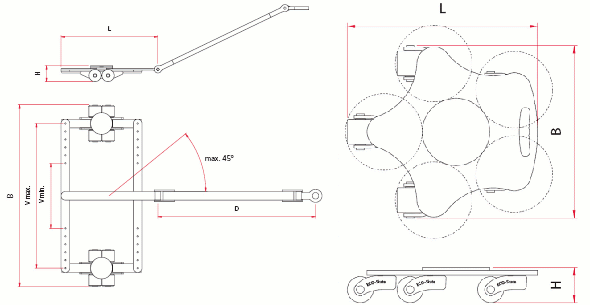 | Type | iN80D-CR | iN160D-CR | iRN27-CR | iRN45-CR |
| --- | --- | --- | --- | --- |
| Part number | 12.080.01.30 | 12.120.01.30 | 12.027.01.40 | 12.045.01.40 |
| Capacity (lbs.) | 2 x 8,800 | 2 x 17,630 | 5,950 | 9,900 |
| Wheel dimension (inch) | 3.3" X 3.4" Nylon | 3.3" X 3.4" Nylon | 3.3" X 3.4" Nylon | 3.3" X 3.4" Nylon |
| Number of wheels | 2 x 4 | 2 x 8 | 3 | 5 |
| Load area (inch) | 2 x 5.9" | 2 x 5.9" | 5.9" | 8.6" |
| Dimensions L x W x H (inch) | 25.8" X 50.4" X 4.3" | 37.1" X 70.2" X 4.3" | 15.3"/17.6" X 16.3" X 4.3" | 21.9"/24.4" X 22.3" X 4.3" |
| Handle length (inch) | 47.2" | 47.2" | - | - |
| Adjustability (inch) | 5 x 22" to 39" | 5 x 28" to 51" | - | - |
| Weight (lbs.) | 95 | 192 | 42 | 86 |