| | | | |
| --- | --- | --- | --- |
| Type | RMN9 (NY) | RN18 (NY) | RFN30 (NY) |
| Part number | 10.009.08.40 | 10.018.01.40 | 10.030.01.40 |
| Capacity (lbs.) | 900 Kg / 1984 lbs | 1800 Kg / 3,968 lbs | 3,000 Kg / 6,614 lbs. |
| Wheel size (inch), material | 50 X 46 mm / 1.96" X 1.8" Nylon | 85 X 87 mm/ 3.3" X 1.7" Nylon | 85 X 87 mm / 3.3" X 1.7" Nylon |
| Number of wheels | 4 | 6 | 8 |
| Load area (inch) | 75 X 75 mm / 2.95" X 2.95" | 150 mm / 5.9" diameter | 170 mm / 6.70" diameter |
| Dimensions L/L* x W x H (inch) | 287 x 225 x 60 mm /11.30" X 8.85" X 2.36" | 550 x 467 x 110 mm / 21.6" X 18.9" X 4.3" | 588 x 467 x 110 mm / 23" X 18.9" X 4.3" |
| Weight (lbs.) | 7 Kg / 15.4 lbs | 22 Kg / 48.5 lbs | 33Kg / 72.8lbs |
| | | | |
| --- | --- | --- | --- |
| Type | RFN60 (NY) | RFN80 (NY) | RFXN12 (NY) |
| Part number | 10.060.01.40 | 10.080.01.40 | 10.120.03.41 |
| Capacity (lbs.) | 6,000 Kg / 13,228 lbs | 8,000 Kg / 17,637 lbs | 12,000 Kg / 26,455 lbs |
| Wheel size (mm), material | 85 X 87 mm / 3.3" X 1.7" Nylon | 85 X 87 mm / 3.3" X 1.7" Nylon | 140 X 86 mm / 5.5" X 3.3" Nylon |
| Number of wheels | 16 | 20 | 8 |
| Load area (inch) | 220 mm / 8.66" diameter | 220 mm / 8.66" diameter | 250 mm / 9.85" diameter |
| Dimensions L/L* x W x H (inch) | 650 x 585 x 110 mm / 25.6" X 23" X 4.3" | 829 x 786 x 110 mm / 32.6" X 31" X 4.3" | 830 x 710 x 180 mm / 32.6" X 28" X 7.1" |
| Weight (lbs.) | 44 Kg / 97 lbs | 60 Kg / 132 lbs | 116 Kg / 256 lbs |
*L=Length with wheel facing to the back outside the frame
Options for ECO-Skate ROTO RN Series LS 360°
Scroll Down
| Click an image to enlarge → | | | | | |
| --- | --- | --- | --- | --- | --- |
| Type | | | | | |
| Part number | 100.009.030 | 100.009.035 | 100.009.036 | 940.620.920 | 940.025.200 |
| Dimensions | 13.7" x 1.2" x 39.4" | 3.94" x 1.2" x 43.3" | 13.8" x 1.2" x 39.4" | 1.57" x 1" x 78.7" | 2.75" x 1" x 78.7" |
| Description | Steering bar with Handle and ROTO adapter | Steering bar with pulling eye and ROTO adapter | Steering bar with handle and pulling eye and ROTO adapter | Alignment bar ROTO* | Alignment bar ROTO with a steering bar connector* |
*other length on request, **Pictured with optional steering handles and alignment bar
An ECO-Skate ROTO System has a minimum of four skates. The ROTO skates can be also be combined with all other suitable ECO-Skates. The load can be rotated by 360° for greater flexibility and an easier move.
Features
ECO-Skate 360° ROTO RN Series skates have the following features:
Combinable
All ECO-Skate ROTO load moving systems can be combined with the ECO-Skate      i-Series, iN-Series and DUO.
The sum from each skate equals the total carrying capacity.
HTS Nylon Wheels
All RN Series Roto skates are standard equipped with wear resistant HTS nylon wheels, providing minimal rolling resistance. They are available as spare parts for other manufactured skates as well.
Steering and alignment bar
The ROTO LS series is equipped with an adapter for steering and alignment bars. Special lengths are available on request.
For all cases where a standard product is not sufficient, we offer special tailor made solutions to fit the customers needs.
ROTO XL SPECIAL: RXNS6LSH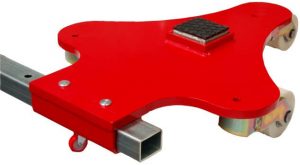 Special tailor made solution for a customer in the food industry where machines have to be moved quickly and efficiently from the production line and placed back into position after servicing.
Heavy load 360° ROTO Skate with 6 ton carrying capacity and integrated lifting solution, controlled by an external pump and linked to an ECO-Jack SYNCRO pressure block, for synchronized lifting and lowering. The wheels can be blocks for better maneuverability and the single skates can be linked with alignment bars.